A quiet and peaceful pooja corner is one feature you will find in almost every Indian home. Traditionally, wood and marble have been used for designing pooja mandirs. Nowadays, people prefer modern pooja rooms made of granite, glass and other materials, matching their home's decor. Similarly, the size of the puja room design varies, depending on the available space. So, one can create a separate pooja room in a spacious house, or a wall-mounted pooja unit for small homes.
Here are some elegant pooja room designs for Indian homes to help create a positive environment in the house while enhancing its aesthetic appeal.
Pooja room design on wall
In small apartments, the wall space can be utilised to create storage spaces. They also provide the perfect place to set up a home temple. A wall-mounted puja ghar design with inbuilt shelves will offer space for storing pooja items, apart keeping the idols of gods. This stunning dark wood puja unit with jail design and intricate Indian style carving will set up a serene ambience. The combination of wooden tones and white further enhances the appearance.
See also: How to set the pooja room as per Vastu
Source: Pinterest
Marble is another material other than wood that is used for pooja room designs for homes. The gold undertones in this pristine marble puja design enhance the beauty and serenity of the room.
Source: Pinterest
Temple-style pooja unit design
A home pooja mandir design can be inspired by the architecture of traditional temples. The intricate carvings and all-white theme perfectly blend to create a serene look.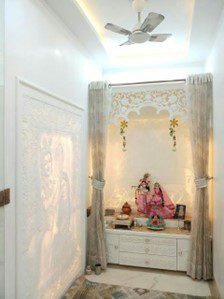 Source: Pinterest
Frosted glass puja unit design
You can give a modern look to a simple pooja room design by installing the latest, frosted glass. Customise the design with different patterns.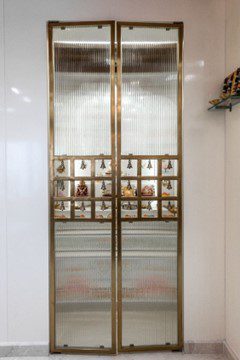 Source: Pinterest
Corner pooja room design for home
You can opt for a customised, small pooja room design on a wall corner. You can match the finishing and colour of the pooja unit based on your decor style. Moreover, the puja unit can be installed on the wall, or you can choose a standalone unit.
Source: Pinterest
The material used in this puja unit is wood. Some striking features of this design are the use of glass shelves and jaali work to give a luxurious appeal. It is an ideal pooja room model for small apartments in India. Also, wall decals blend with the colour scheme and provide a delightful look.
Source: Pinterest
Puja room with partition in hall
It is essential to have a quiet and calming space for prayers and meditation. In an open floor plan where you cannot have an individual pooja room, you can include room dividers or panels in the pooja room interior design.
Source: Pinterest
Beautiful curtains or room partitions can be used to separate the pooja corner from the rest of the room. This pooja ghar design brings a serene glow to the entire home through the LED light panels in the backdrop.
Source: Pinterest
Open pooja room designs for Indian homes
If you are designing your dream home, you can build a dedicated individual pooja room. You can go for the latest door designs for the room. For a small pooja room designs for your home, wood, glass, or a combination of glass and wood are some options you can explore. Besides, doors for modern pooja room designs can be hinged doors or sliding doors.
Source: Pinterest
See also: Pooja room glass door design ideas
This spacious puja room blends modern and traditional pooja room designs. It provides plenty of space to keep the idols and pictures of the deities and has been customised with a false ceiling, black marble flooring and door carving designs that make the room look magnificent.
Source: Pinterest
Traditional pooja room design in Tamil Nadu
Typically, south Indian puja rooms include wood carvings, brass idols and doors that can be closed in the afternoons. A south Indian style puja room can be designed with shelves dedicated for the deities and storage units.
Source: Pinterest
See also: Traditional house design in south India
This design is a modern twist to the traditional pooja room design in Tamilnadu and other south Indian states. The wooden door has a classy design of the traditional oil lamp.
Source: Pinterest
Check out these wooden mandir designs for home
Free standing pooja room designs
If your house has floor space to accommodate a large standalone puja unit, you can get a customised unit with built-in storage shelves. The size of such pooja room designs for the home is based on the total available floor space. You can incorporate innovative designs and carvings or traditional artwork that will give your house a unique appeal.
Source: Pinterest
This classic puja unit has features of Indian style pooja room designs and has been accessorised with bells. The dark wooden tones and traditional dome with elegant designs on the cabinet elevate the charm of the entire space.
Source: Pinterest
Pooja room with POP roof design
This is an aesthetically designed pooja room design for home with a false POP ceiling. The POP ceiling along with the decorative chandelier and accent lights, give a contemporary touch to the puja space. Moreover, the use of gold tones and wood in the overall design radiates elegance. In addition, the stunning wall designs and wooden door carvings will make this individual pooja room a focal point of the house.
Source: Pinterest
POP false ceiling allows you customise the designs and patterns with ease. Include LED lights accent lights to achieve a welcoming and tranquil ambience.
Source: Pinterest
Pooja room with arch design
Designing a puja space or unit with traditional arches is a popular idea. Wood is a preferred material for such pooja room designs for Indian homes since it brings a traditional touch and blends with any puja room design theme.
Source: Pinterest
However, POP or Plaster of Paris and natural materials like marble are also excellent for creating a gorgeous puja unit with arch designs.
Source: Pinterest
See also: Arch design for hall
Pooja room with jali design
Jali work in modern pooja room designs is one decor element suited for a grand pooja room that will enhance the spiritual aura. Jali work can be included in the puja unit, doors or the room partition that segregates the puja space from the rest of the house.
Source: Pinterest
Carved MDF jali design is one of the trending pooja room ideas for Indian homes. You can experiment with various colours and patterns to create a style statement.
 Source: Pinterest
Temple style pooja room
Install a puja unit design based on a traditional Indian temple structure. Incorporate intricate carvings, artwork, and bright colours for a serene settingYou can also consider pooja room gopuram designs based on south Indian temple style. Decorate the space with brass lamps, incense holders, and flowers.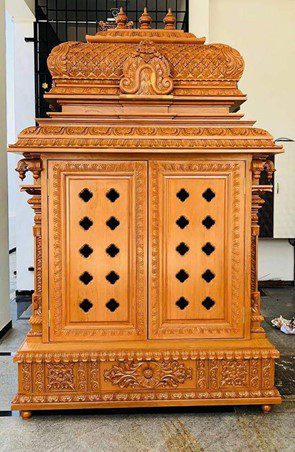 Source: Pinterest
Marble mandir pooja room
Marble is a classic material for an Indian style puja room unit design. Opt for a bright lighting fixtures which will highlight the features of the marble mandir design. You can even consider marble flooring option if you have a dedicated pooja room.
Source: Pinterest
Wooden cabinet for pooja mandir
A storage cabinet in a pooja room is a necessity as one can keep pooja items. Choose a wooden cabinet which can work well for your home interiors. Wood is a classic material for any traditional Indian home décor. Go for a combination of open shelves and closed cabinets. You can incorporate jaali designs to make the space look attractive.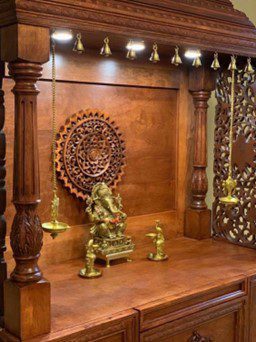 Source: Pinterest
Glass pooja mandir
You can elegance to your pooja room area by including glass elements. The easiest way is to add a glass door for your puja unit. However, you can even consider a pooja unit completely made of glass and incorporate other elements like wooden cabinets to enhance the visual appeal. You can customise the glass door design based on your décor style.
Source: Pinterest
Wood carved pooja room
Wooden carvings are an excellent décor option for your pooja room. Go for intricate designs such as geometric patterns, floral motifs, or religious symbols. Teak and rosewood are popular types of wood used for designing pooja units.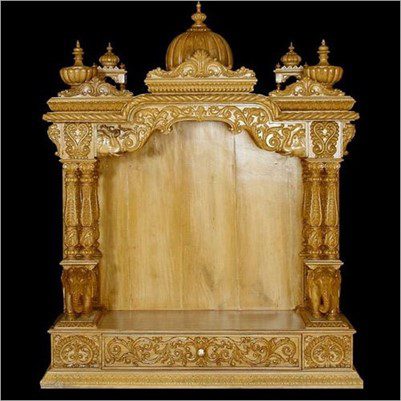 Source: Pinterest
FAQ
How to decorate small puja room in home?
Choose a beautiful backdrop for your puja unit. Decorate the space with brass lamps and modern lighting fixtures. You can even consider POP ceiling design to design a pooja mandir.
How to arrange puja ghar?
Design a home mandir in the Vastu-recommended northeast direction. The faces of gods can face the west so that you face east direction when worshipping. Always place the deities on an elevated platform. Keep the puja area well-lit and clutter-free.
What are the options for pooja room?
You can create a dedicated pooja room if there is sufficient space. However, if you have a compact home, go for a wall-mounted mandir design. Choose auspicious, light colours such as white, blue or light yellow. Some ideal materials for a mandir design are wood and natural stones like marble.
Should puja room have a door?
You can choose a door for your pooja room with wood or glass. Jaali doors are also quite popular in home mandir design trends.
What is the timing of pooja at home?
One should wake up early and perform puja in the morning. The Brahma Muhurta time, between 4.30 and 5 AM, is considered most auspicious.
What are pooja essentials?
Some essential things to keep in a pooja room include incense, oil lamp or lights, flowers, idols or photos of deities and holy books.
Got any questions or point of view on our article? We would love to hear from you. Write to our Editor-in-Chief Jhumur Ghosh at [email protected]

Source link